Askar
Regular price
Rs. 159,999.00
Regular price
Sale price
Rs. 159,999.00
Unit price
per
Sale
Sold out
The aperture of 120mm gives it an inherent advantage in terms of light-gathering power, resolution, brightness, and contrast, allowing the photographer to gather more light and present more details and brighter objects in the image.The aperture area of the Askar 120APO enlarged by 36% compared to that of the 103APO.
Along with the more light coming into the astrograph, the limiting magnitude can reach 12.2.
Askar 120APO adopts a triplet air-spaced APO lens design, including one piece of ED glass. 

In the refractor's element structure, increasing the number of lens elements and designing lens combinations can effectively improve chromatic aberration correction. However, this also means increased production costs and design complexity.Askar APO series employs special optical designs and multiple lens elements to correct chromatic aberration, naturally providing higher-quality object details and color accuracy.ED glass, also known as low-dispersion glass, is a type of optical glass specifically designed to reduce chromatic aberration.
Except for the dedicated optical design, the Askar 120APO is well-considered in the mechanical design.
Askar 120APO is light and compact with a total weight of 6.5kg (including the tube rings). So it is suitable for outdoor shooting.
Each piece of Askar 103APO is equipped with a unique name ring for identification.
The retractable design of the dew shield, along with the enlarged locking screws, provides convenient usage. The dew shield serves the purpose of protecting the lens from the impact of external and internal light and protecting the lens itself.
The Askar 120APO has two finder bases, one on each side. Many users have some concerns about the limited space for installing additional astronomical accessories along the use. To address this, we have specially set finder bases on both sides of the focuser. This not only eliminates the need for disassembly when changing the position of the finder scope but also provides additional mounting positions for other astronomical accessories.
The handle of the Askar 120APO has a special slot design, making it also a base for installing a finder scope. The handle itself has been extended by 60mm, which makes the tube rings more convenient to fix the astrograph. 
The total weight of the tube ring is only 780g. The thumb screws enable easy opening and locking of the tube rings. Meanwhile, the base of the tube rings is heightened, providing more space.
The standard Vixen dovetail plate is compatible with most equatorial mounts and bases on the market. We extended the length and added screw holes, making the plate becoming 290mm which is more easy to balance on the mounts. With the slot on the handle, the spacing between the tube ring can be adjusted as desired. Additionally, there is also a Losmandy dovetail plate available for purchase, to be used with different equatorial mounts.
The Askar 120APO has two optional accessories(now): a 1x flattener, and a 0.8x reducer. Both of them have built-in filter threads which allow direct filter mounting. Also, they have M54/M48 adapters which are convenient for attaching accessories.
The 1x flattener does not change the telescope's focal ratio itself. After connecting with the Askar 120APO, it still maintains a focal ratio of f/7. The flattener corrects field curvature and coma, resulting in flatter field edges and finer star points. 
The 0.8x reducer can bring the Askar 120APO's focal ratio down to f/5.6. This is a standard reducer with field flattening capabilities as well. A shorter focal ratio allows the OTA to have a wider field of view and faster exposure times, making it suitable for capturing large areas of nebulae, star clusters, and faint, fast-moving celestial objects.
In terms of visual observations, the Askar 120APO pays great attention to observation quality. It can easily achieve focus when connected to 1.25" or 2" diagonals or various eyepieces. Because of the segmented lens tube design, it can also be attached to binoviewer for visual observation.
In terms of the focuser, Askar 120APO is equipped with a dual-speed rack and pinion large 3.3-inch rigid focuser, which can be compatible with most motorized focusers on the market. There is a high-precision scale on the 10cm focusing travel. The entire focuser barrel is CNC machined with an anti-reflective internal design and matting paint, providing extra measures to eliminate stray light.
The rear of the focuser features a 360° high-precision big rotator, along with precise scales for convenient adjustment and saving of rotation angles, enabling precise rotation. It is also equipped with an enlarged rotator locking screw that can easily secure even under high loads.
The telescope interface at the rear comes with a 1.25"/2" adapter.
The entire Askar 120APO tube is crafted using high-quality CNC machining, with anodized and surface spray paint treatment. The orange accents on the ivory-white tube add a bright and eye-catching touch, presenting a stylish and elegant overall appearance.
Let the Askar 120APO accompany you in exploring the magnificent landscapes of the universe and create unforgettable memories. Take action now and embark on your astronomical adventure with the Askar 120APO!
Specifications
Parameters

Aperture size

120mm

Focal length

840mm

Focal ratio

f/7

Objective lens

Triplet air-spaced APO (including one ED glass)

Total length

722mm(when the dew shield is contracted)
804mm(when the dew shield is stretched)

OTA weight

5.7kg

Gross weight(including tube ring and dovetail plate)

6.5kg

Rear-end thread type

2"/1.25" visual adapters

Standard package items

an 120APO OTA, a pair of tube rings, a handle, an Askar 290mm Vixen dovetail plate, an Oxford cloth case,a manual
Share
View full details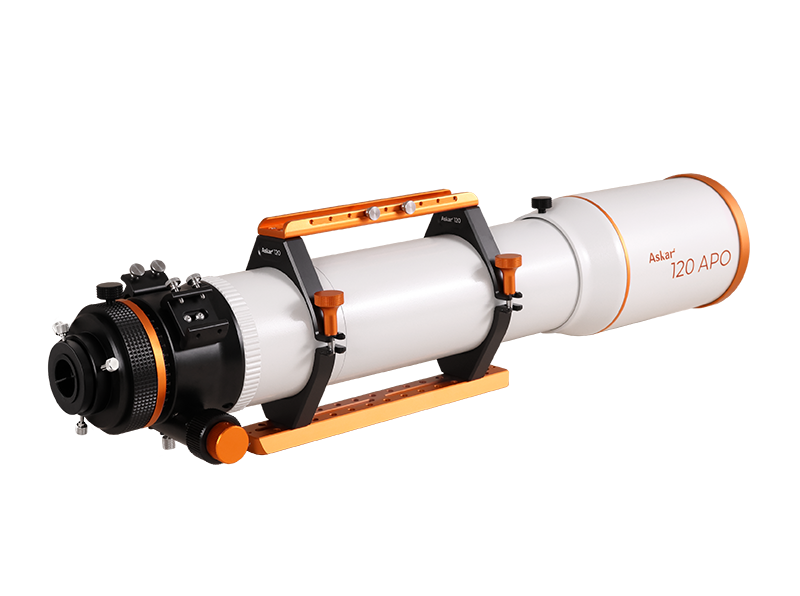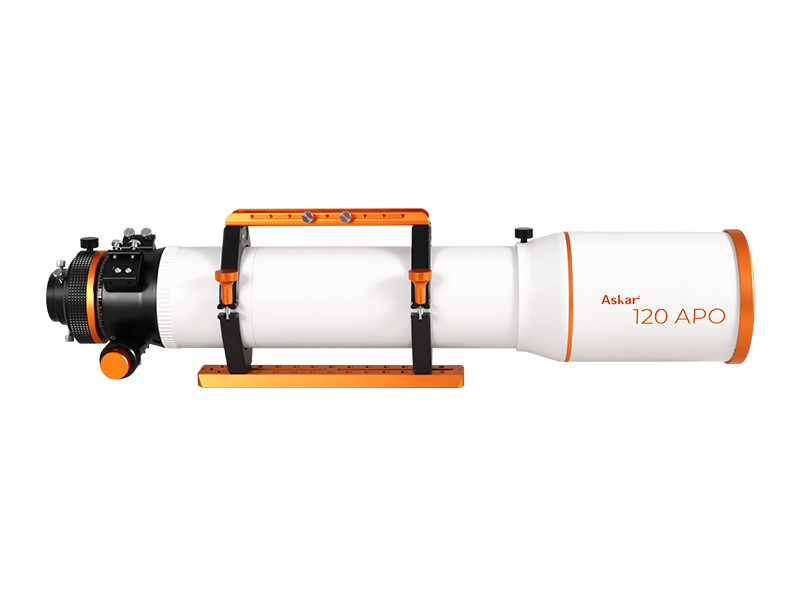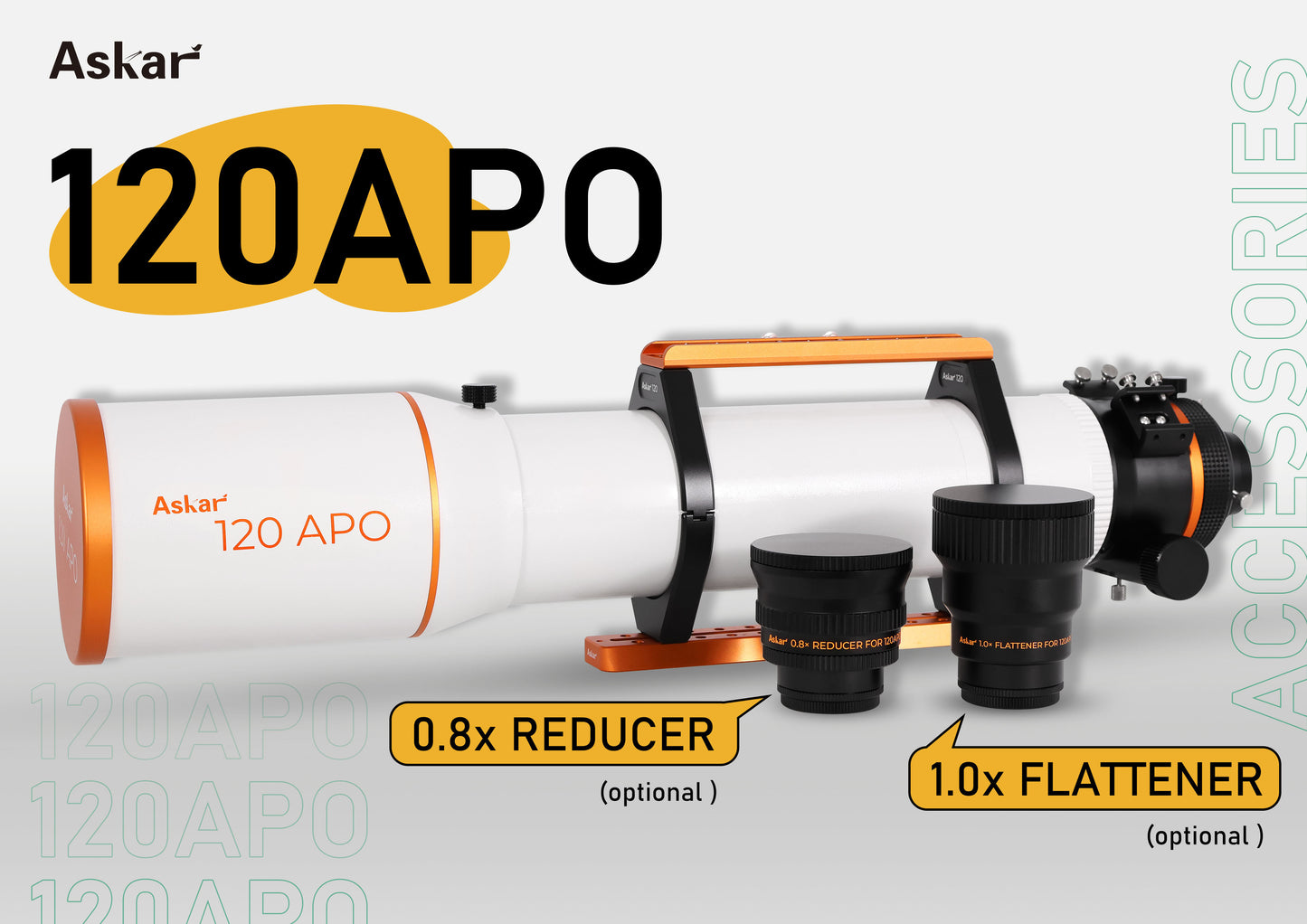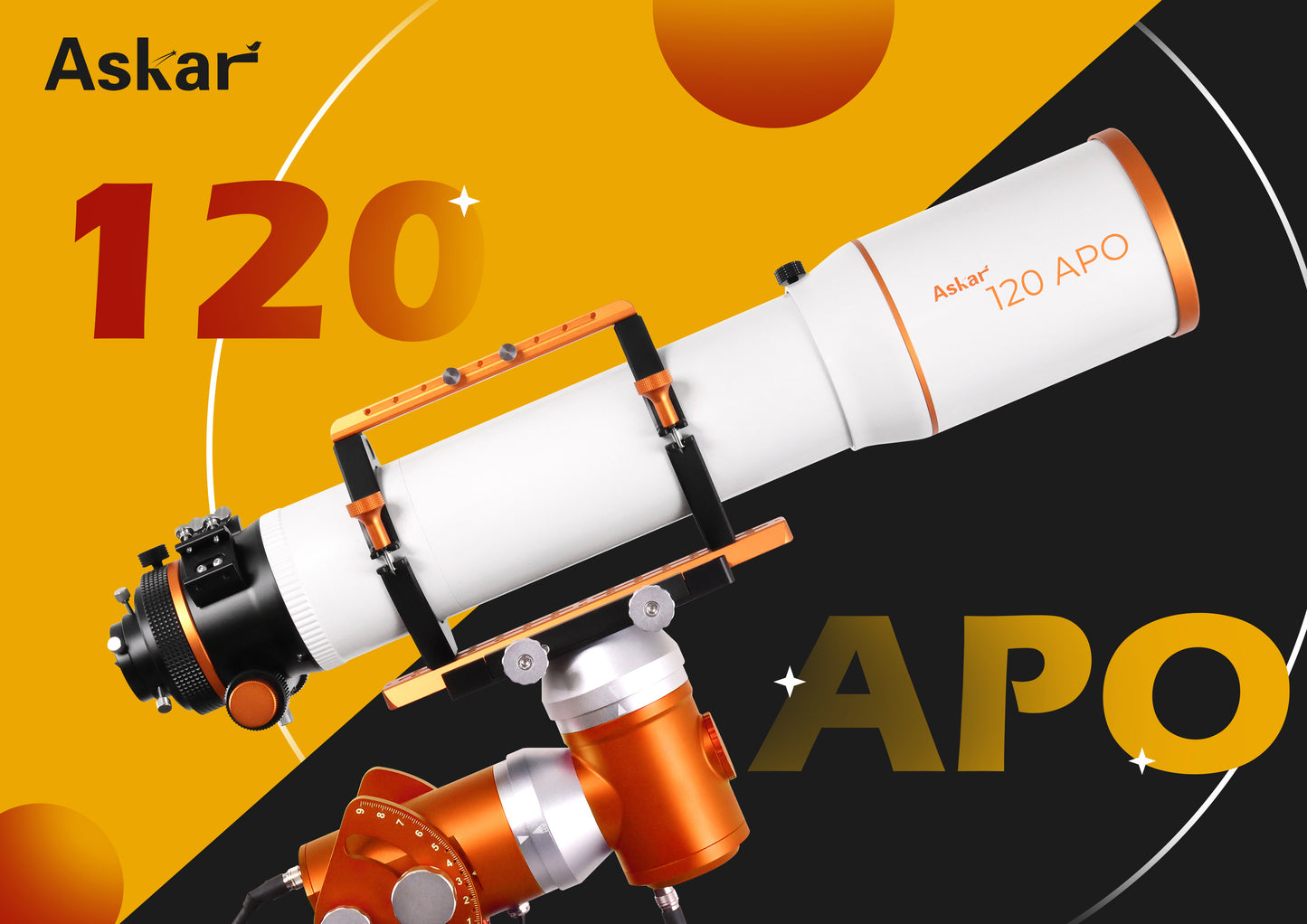 what we get asked most often
Are the prices all-inclusive?

Yes. The price you see is the price you'll pay. All taxes are included. Free shipping on all orders.
What's the stock status of the products on your site?

We list only in-stock items on our website that can be shipped right away. Sold out products are out of stock, so you can't place an order.

Selected products are available for Preorder, with a guaranteed delivery within 30 days or your money back.
How fast do you ship?

We process and ship all orders within two business days. Shipping time is determined by the speed of the shipping partner.
Is there a guarantee on your products? 

Yes. On top of the manufacturer's warranty, we also offer a Replacement Guarantee on all online orders. In the event that the product is defective or damaged during shipping, you will receive a replacement.
Can I cancel my order?

We'll refund you 100% if you cancel before dispatch. Cancellations after dispatch are complicated. Take a look at the our Policy here
What's your return policy?

We have strict return/refund policies as a company that deals with fragile products. Casual returns are not permitted. Items that are not damaged in transit or defective cannot be returned.So please take a moment to review our Refund Policy.
Could I order something that's out of stock or not listed?

If you are interested in ordering an out-of-stock item, click the "notify me" button. You will be notified when the item is back in stock.

To source a specific product for you, our team needs more information. Specific orders will be subject to case-by-case terms and conditions.