Askar
Regular price
Rs. 15,999.00
Regular price
Sale price
Rs. 15,999.00
Unit price
per
Sale
Sold out
Users are often racked by the task of choosing and matching dazzling filters as well as adapters when it comes to using a filter drawer. It just becomes more confusing for those who are quite new to astrophotography. To solve this problem, Askar introduces a multifunctional filter drawer. The major feature or strength of this filter drawer is its integration of the most marketable filters, telescope and astronomy camera adapters. Users basically don't need to worry about the related issues anymore with this five-in-one filter installation device.
Assembly Steps:
Users have to follow the certain steps to successfully assembly the Askar filter drawer and put it into the right path to fit the whole optical system:
Take out the main body of Askar filter drawer
Choose a proper camera adapter according to the thread type of your astronomy camera
Fix the camera adapter on the main body with 5 M3×8 countersink screws and wrench of M2
Choose a proper telescope adapter according to the thread type of your telescope
Thread on the telescope adapter
Connect the filter drawer and your telescope
Connect your astronomy camera and the filter drawer
Make sure that these accessories are tightly connected and the whole system has a correct back focus. You can add extra spacers (optional) to reach the required back focus
Choose a proper filter slider according to the filter you are going to use. If it's a 1.25" or 2" mounted filter, directly thread it onto the filter slider. And if it's a 31mm, 36mm or 50mm unmounted filter, gently put the filter into the circular groove and superimpose a filter holding ring, fix the holding ring with 3 M2×4 countersink screws and the wrench of M1.27 to securely hold the filter between.
Insert the filter slider into the Askar filter drawer and it's ready for astrophotography
Share
View full details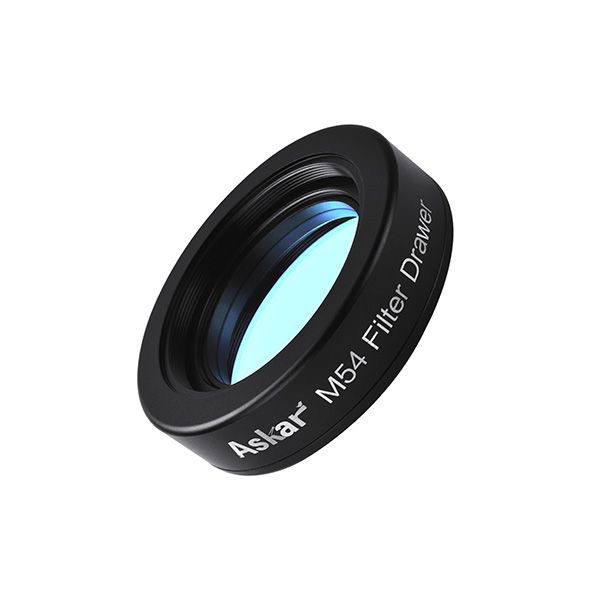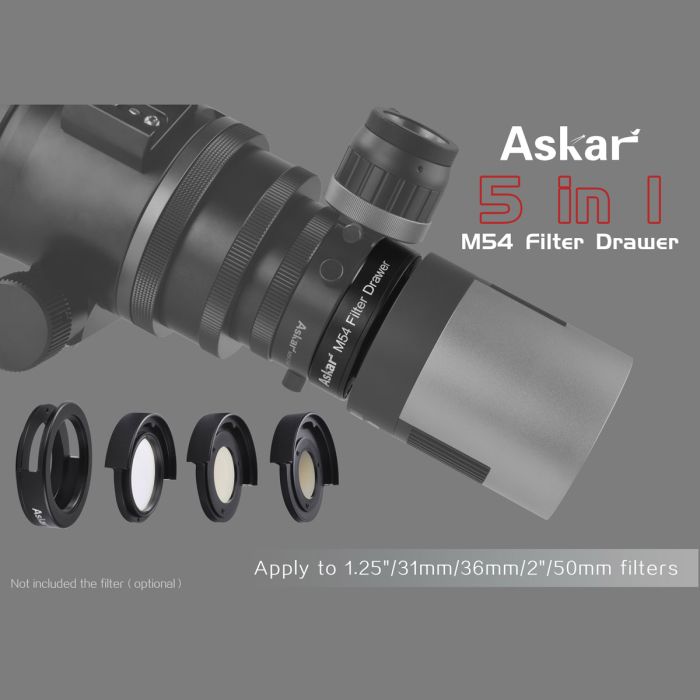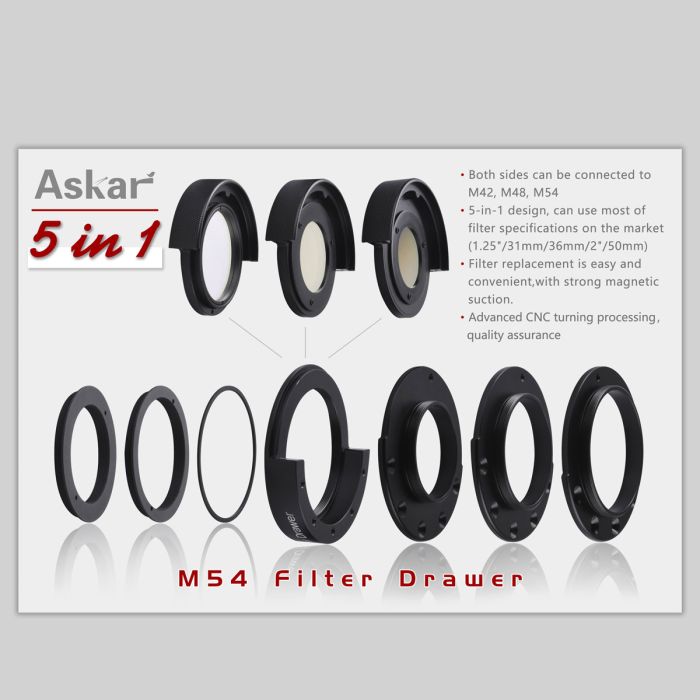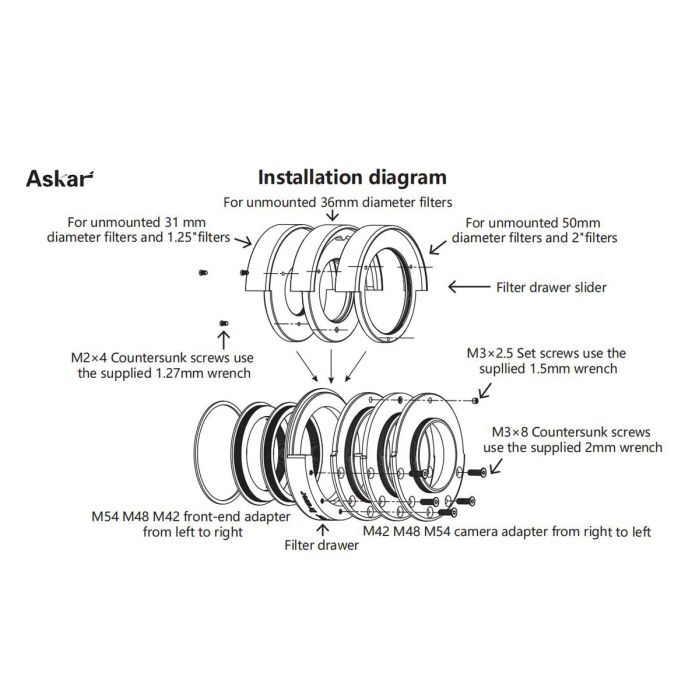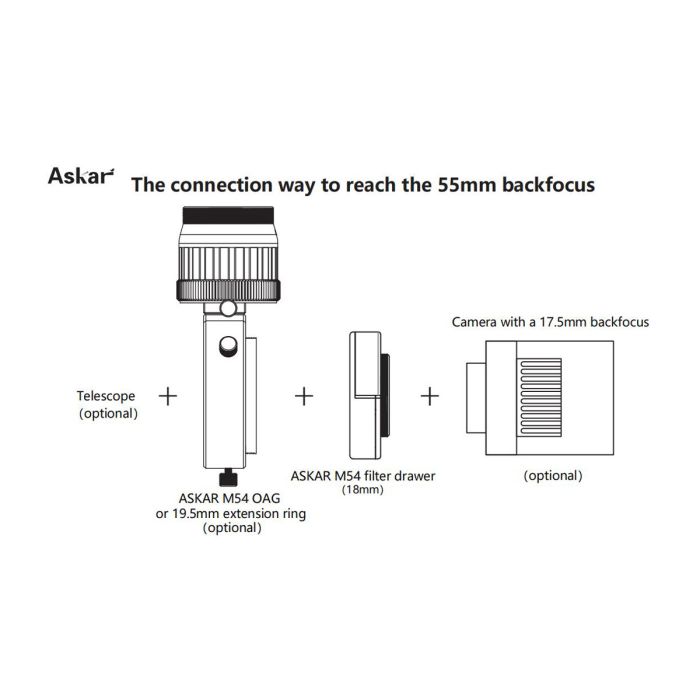 what we get asked most often
Are the prices all-inclusive?

Yes. The price you see is the price you'll pay. All taxes are included. Free shipping on all orders.
What's the stock status of the products on your site?

We list only in-stock items on our website that can be shipped right away. Sold out products are out of stock, so you can't place an order.

Selected products are available for Preorder, with a guaranteed delivery within 30 days or your money back.
How fast do you ship?

We process and ship all orders within two business days. Shipping time is determined by the speed of the shipping partner.
Is there a guarantee on your products? 

Yes. On top of the manufacturer's warranty, we also offer a Replacement Guarantee on all online orders. In the event that the product is defective or damaged during shipping, you will receive a replacement.
Can I cancel my order?

We'll refund you 100% if you cancel before dispatch. Cancellations after dispatch are complicated. Take a look at the our Policy here
What's your return policy?

We have strict return/refund policies as a company that deals with fragile products. Casual returns are not permitted. Items that are not damaged in transit or defective cannot be returned.So please take a moment to review our Refund Policy.
Could I order something that's out of stock or not listed?

If you are interested in ordering an out-of-stock item, click the "notify me" button. You will be notified when the item is back in stock.

To source a specific product for you, our team needs more information. Specific orders will be subject to case-by-case terms and conditions.