Celestron
Regular price
Rs. 1,999.00
Regular price
Sale price
Rs. 1,999.00
Unit price
per
Sale
Sold out
Double the magnification of each eyepiece you own with the Omni 2X Barlow Lens
Keep the eye relief of your eyepieces while getting 2X the power
Slides into 1.25" focusers and diagonals and accepts 1.25" eyepieces
Fully multi-coated optics with blackened edges for good light transmission and minimal reflections
A Barlow lens is the astronomy accessory that keeps on giving! Insert it between your eyepiece and your telescope to get double the magnification instantly. Let's say you have two eyepieces in your accessory case, a 10mm and a 25mm. Add a Celestron Omni 2X Barlow Lens to the mix, and now you have four magnifications to choose from. Combining this lens with the 25mm provides double the magnification, or the equivalent of a 12.5mm eyepiece, while the 10mm gives you the power of a 5mm eyepiece. 
Eye relief is the distance your eye has to be from the first lens in the eyepiece in order to see the full field of view. When you use a Barlow lens with an eyepiece, you get double the magnification, but the eye relief is not affected. This is a good thing, because normally the shorter the focal length of the eyepiece, the less eye relief you have. In other words, a standard 10mm eyepiece, as a general rule, will have better eye relief than a 5mm eyepiece. Bonus! 
The Celestron Omni 2x Barlow comes in a sleek, silver package. The two-element optics are fully multi-coated, and the edges of the lenses are blackened to cut down on internal reflections. The 1.25" barrel will fit in standard 1.25" focusers and diagonals, and the Barlow will accept 1.25" eyepieces. A metal thumbscrew locks the eyepiece firmly in place.
Share
View full details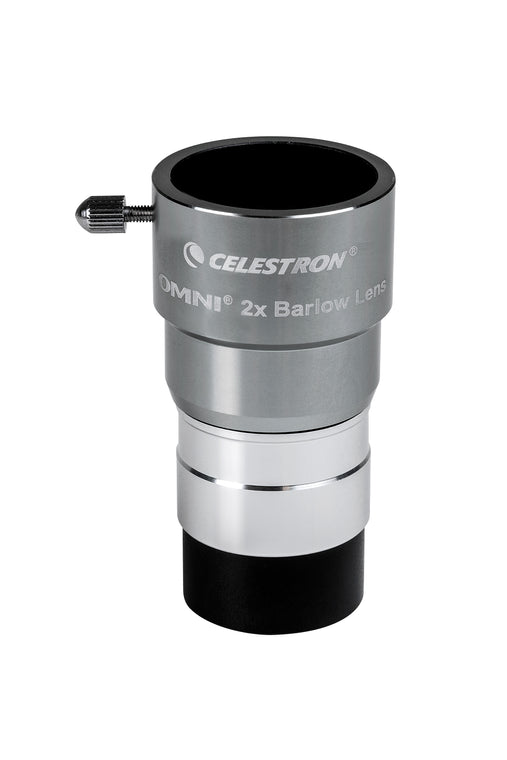 best price and great packaging
never expect how careful the seller pakaged the product. hats off. will buy more
what we get asked most often
Are the prices all-inclusive?

Yes. The price you see is the price you'll pay. All taxes are included. Free shipping on all orders.
What's the stock status of the products on your site?

We list only in-stock items on our website that can be shipped right away. Sold out products are out of stock, so you can't place an order.

Selected products are available for Preorder, with a guaranteed delivery within 30 days or your money back.
How fast do you ship?

We process and ship all orders within two business days. Shipping time is determined by the speed of the shipping partner.
Is there a guarantee on your products? 

Yes. On top of the manufacturer's warranty, we also offer a Replacement Guarantee on all online orders. In the event that the product is defective or damaged during shipping, you will receive a replacement.
Can I cancel my order?

We'll refund you 100% if you cancel before dispatch. Cancellations after dispatch are complicated. Take a look at the our Policy here
What's your return policy?

We have strict return/refund policies as a company that deals with fragile products. Casual returns are not permitted. Items that are not damaged in transit or defective cannot be returned.So please take a moment to review our Refund Policy.
Could I order something that's out of stock or not listed?

If you are interested in ordering an out-of-stock item, click the "notify me" button. You will be notified when the item is back in stock.

To source a specific product for you, our team needs more information. Specific orders will be subject to case-by-case terms and conditions.