Optolong
Regular price
Rs. 26,999.00
Regular price
Sale price
Rs. 26,999.00
Unit price
per
Sale
Sold out
Warning: As a critical safety reminder, the Optolong L-Ultimate filter is not intended for solar observation. It should NEVER be used to observe the sun directly, as it can result in irreversible blindness.  EDISLA does not assume responsibility for any incidents that may occur due to improper usage.
Introducing the Optolong L-Ultimate Filter:
The Optolong L-Ultimate Filter is a cutting-edge dual-band filter designed to dramatically mitigate the impact of light pollution on astronomical observations. This advanced 3nm bandwidth filter efficiently isolates nebulae emissions into two key spectral lines: H-Alpha (red) and OIII (green-blue). By effectively blocking light pollution and artificial sources like mercury vapor lamps, high and low-pressure sodium vapor lights, and unwanted natural light caused by neutral oxygen emissions in the Earth's atmosphere, the L-Ultimate Filter enhances signal capture from nebulae and darkens the sky background. It optimizes the transmission of the primary emission lines of nebulae in OIII (496nm and 500nm) and H-alpha (656nm). The L-Ultimate Filter is compatible with DSLRs, color/MONO CMOS, and CCD cameras, although it's not recommended for fast ratio optical systems.
Key Advantages:
The L-Ultimate Filter selectively transmits only the emission lines OIII(500.7nm) and Ha(656.3nm), effectively eliminating other light pollution emission lines. This ensures that only the emission and reflection signals from the nebulae are captured during imaging. As a result, the sky background in the image becomes darker, enhancing the contrast between the nebulae and improving the signal-to-noise ratio. In heavily light-polluted areas, this filter can efficiently filter out light pollution and unwanted signals, allowing astrophotographers to avoid the detrimental effects of light pollution.

Unlike the dual-narrowband filters in the L-eNhance and L-eXtreme series, the L-Ultimate Filter offers a dual 3nm bandwidth filter that exclusively transmits Ha and OIII emission lines. This configuration results in a darker sky background, increased image contrast, and suppression of starlight. Moreover, L-Ultimate has been optimized to minimize halos, ensuring that there are no noticeable halos when photographing bright star objects.
Features:
Substrate: Optical glass
FWHM (Full Width at Half Maximum): OIII 3nm, Ha 3nm
Blocking Range: 300-1000nm
Blocking: >OD4 (Optical Density 4)
Surface Quality: 60/40
Transmitted Wavefront RMS: λ/4
Parallelism: 30 seconds
Coating Technology: The Optolong L-Ultimate Filter utilizes advanced coating technologies for superior performance and durability. These include multi-layer anti-reflection coating and non-cementing optical substrate coating. The precision coating process is based on Ion-assisted deposition coating technology, ensuring resistance to scratching and stability in terms of central wavelength (CWL) even in varying temperature conditions. A planetary rotation system during the coating process guarantees precision and uniformity of coatings, resulting in high transmission in the pass-band and optimal optical density in the off-band.
The Optolong L-Ultimate Filter represents a significant advancement in astronomical filters, allowing astrophotographers to capture stunning images while effectively combating light pollution. As with all optical equipment, adherence to safety guidelines is crucial, particularly in solar observations, to prevent potential eye damage.
Share
View full details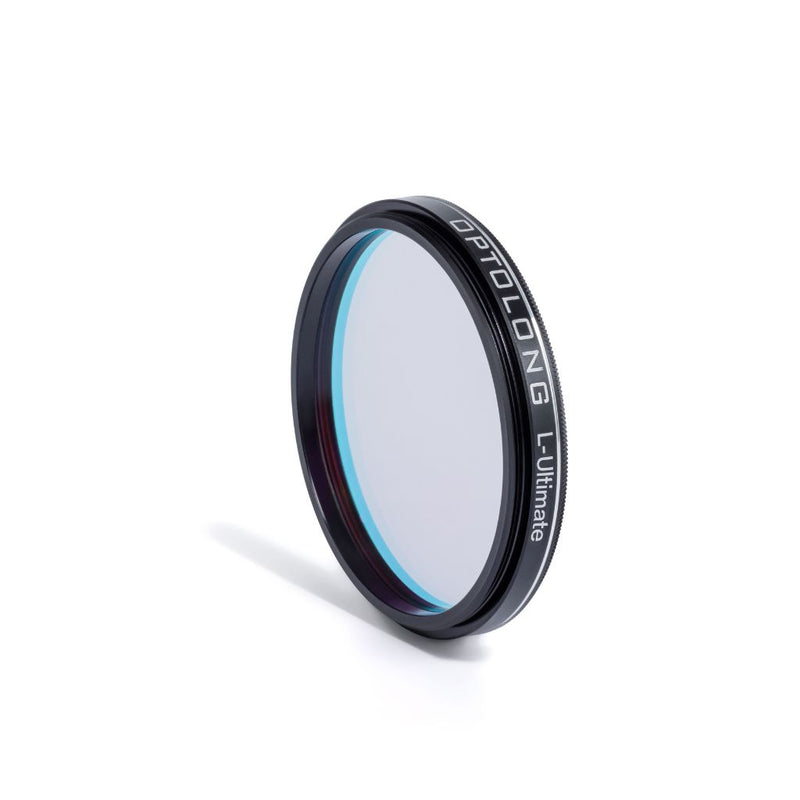 what we get asked most often
Are the prices all-inclusive?

Yes. The price you see is the price you'll pay. All taxes are included. Free shipping on all orders.
What's the stock status of the products on your site?

We list only in-stock items on our website that can be shipped right away. Sold out products are out of stock, so you can't place an order.

Selected products are available for Preorder, with a guaranteed delivery within 30 days or your money back.
How fast do you ship?

We process and ship all orders within two business days. Shipping time is determined by the speed of the shipping partner.
Is there a guarantee on your products? 

Yes. On top of the manufacturer's warranty, we also offer a Replacement Guarantee on all online orders. In the event that the product is defective or damaged during shipping, you will receive a replacement.
Can I cancel my order?

We'll refund you 100% if you cancel before dispatch. Cancellations after dispatch are complicated. Take a look at the our Policy here
What's your return policy?

We have strict return/refund policies as a company that deals with fragile products. Casual returns are not permitted. Items that are not damaged in transit or defective cannot be returned.So please take a moment to review our Refund Policy.
Could I order something that's out of stock or not listed?

If you are interested in ordering an out-of-stock item, click the "notify me" button. You will be notified when the item is back in stock.

To source a specific product for you, our team needs more information. Specific orders will be subject to case-by-case terms and conditions.