Optolong
Regular price
Rs. 2,499.00
Regular price
Sale price
Rs. 2,499.00
Unit price
per
Sale
Sold out
Warning:  DO NOT USE THIS FILTER FOR SOLAR OBSERVATION. DIRECTLY OBSERVING THE SUN THROUGH THESE FILTERS CAN CAUSE IRREVERSIBLE BLINDNESS.
Introducing the Optolong Moon & Skyglow Filter:
The Optolong Moon & Skyglow Filter is specially crafted to enhance astronomical observations and astrophotography by diminishing the luminance of the background sky. This effect is achieved through the selective blocking of light transmissions at the 589nm wavelength, which corresponds to skyglow, as well as filtering out numerous emissions from streetlights and artificial lighting. Its exceptional efficiency in this regard not only maintains image brightness but also brings out more intricate details and heightens the contrast of celestial objects such as the moon, galaxies, nebulae, and globular star clusters.
The Optolong Moon & Skyglow Filter is perfect for both visual and photographic applications. You'll notice a darker background sky due to the blocking of natural skyglow at 589nm as well as emissions from lights that cause artificial light pollution. With a darker background the contrast will increase between the sky and the object, revealing more details. Great for nebulae, galaxies, globular star clusters, planetary nebulae and even the moon.

The Optolong 2" Moon & Skyglow Filter is made with Schott glass that has been multi-coated with an ion-assisted deposition technology to ensure scratch resistance and stability on the central wavelength, or CWL. Each filter cell is made of lightweight, strong metal and is CNC machined, sand-blasted, black anodized, and then laser engraved. The result is a super thin filter cell that will produce a clear aperture of 45mm.
Quality Filter Materials:
Schott B260 substrate material from Germany, 2.0mm thick
CNC machined and black anodized aero-metal filter cell that is ultra-thin to provide largest clear aperture; Laser-engraved to prevent fading
Multiple layers of anti-reflection non-cementing coatings applied via electron-beam gun evaporation with Ion-assisted deposition
Main Application: This filter is highly versatile, making it suitable for both visual observation and astrophotography, particularly for planetary nebulae.
Moon & Skyglow Filter Specifications:
Substrate: B270
Thickness: 1.85mm
Average Transmission (Tave): >90%
Blocking Range: 350-1050nm
Blocking Depth: >99% for blocking light pollution lines
Surface Quality: 60/40
Transmitted Wavefront RMS: λ/4
Parallelism: 30 seconds
Coating Technology: The Optolong Moon & Skyglow Filter incorporates advanced coating technologies to enhance its durability and optical performance:
Multi-layer Anti-Reflection Coating: This minimizes reflections and maximizes light transmission.
Non-Cementing Optical Substrate Coating: This coating increases scratch resistance.
The filter utilizes Ion-Assisted Deposition Coating Technology for precise and stable performance, ensuring that the filter's central wavelength (CWL) remains consistent regardless of temperature changes.
A planetary rotation system is employed during the coating process to ensure uniform and precise coatings, resulting in high transmission in the pass-band and excellent optical density in the off-band.
Packaging: The filter comes in a protective packaging setup:
Outer Box: Silver box
Plastic Box: Made of PP material
Lining: Comprises imported high-pressure white EVA material for added protection.
In summary, the Optolong Moon & Skyglow Filter is a valuable tool for astronomers and astrophotographers, designed to enhance celestial observations by reducing sky luminance. However, it is of utmost importance to adhere to safety warnings and never use the filter for solar observations to prevent potential eye damage.
Interpreting the Chart: The chart provided offers insights into the filter's performance characteristics:
The horizontal axis represents the wavelength in nanometers (nm).
The vertical axis illustrates transmission percentages (%).
Share
View full details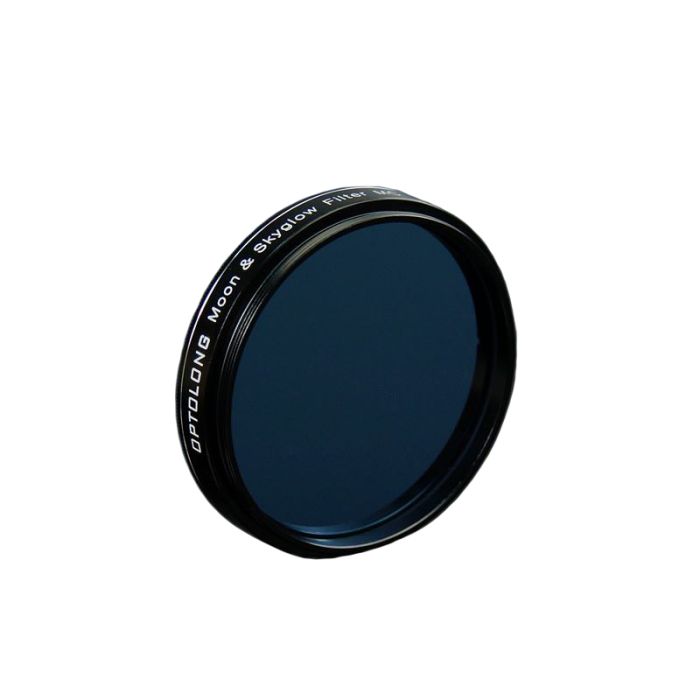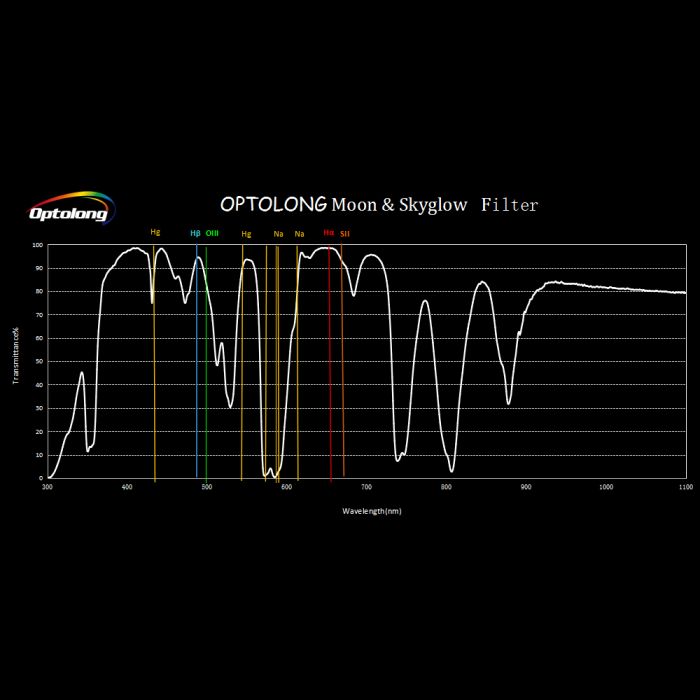 what we get asked most often
Are the prices all-inclusive?

Yes. The price you see is the price you'll pay. All taxes are included. Free shipping on all orders.
What's the stock status of the products on your site?

We list only in-stock items on our website that can be shipped right away. Sold out products are out of stock, so you can't place an order.

Selected products are available for Preorder, with a guaranteed delivery within 30 days or your money back.
How fast do you ship?

We process and ship all orders within two business days. Shipping time is determined by the speed of the shipping partner.
Is there a guarantee on your products? 

Yes. On top of the manufacturer's warranty, we also offer a Replacement Guarantee on all online orders. In the event that the product is defective or damaged during shipping, you will receive a replacement.
Can I cancel my order?

We'll refund you 100% if you cancel before dispatch. Cancellations after dispatch are complicated. Take a look at the our Policy here
What's your return policy?

We have strict return/refund policies as a company that deals with fragile products. Casual returns are not permitted. Items that are not damaged in transit or defective cannot be returned.So please take a moment to review our Refund Policy.
Could I order something that's out of stock or not listed?

If you are interested in ordering an out-of-stock item, click the "notify me" button. You will be notified when the item is back in stock.

To source a specific product for you, our team needs more information. Specific orders will be subject to case-by-case terms and conditions.