Optolong
Regular price
Rs. 5,599.00
Regular price
Sale price
Rs. 5,599.00
Unit price
per
Sale
Sold out
Safety Warning: NEVER USE THIS FILTER FOR OBSERVING THE SUN. Directly looking at the sun through this filter can result in irreversible eye damage or blindness.
Introducing the Optolong UV/IR Cut Filter:
Designed for ultraviolet and infrared wavelength blocking to improve sharpness of the image
The Optolong UV/IR Cut Filter serves a specific purpose in the realm of photography and videography, designed to block ultraviolet (UV) and infrared (IR) wavelengths that fall outside the visible spectrum. This filter is particularly valuable for improving image sharpness when used with digital cameras and video equipment that lack built-in IR protection filters for their image sensors or have undergone modifications.

Key Uses and Benefits:
- Compatibility: The Optolong UV/IR Cut Filter is compatible with a range of devices, including color CMOS and CCD cameras, as well as DSLRs that have been modified for specialized purposes.
- Astrophotography: It finds a special application in astrophotography when paired with monochrome CCD cameras, enhancing the quality of astronomical images.
- Focusing Aid: Additionally, this filter can assist photographers and videographers in achieving better focus, contributing to sharper and more precise images.
- Dust Shield: It also serves as an effective dust shield, safeguarding the lens against the accumulation of dust duringlong-exposure photography sessions.
Advanced Coating Technology:
The Optolong filter boasts advanced coating technologies to ensure its longevity and optical excellence:
- Multi-layer Anti-Reflection Coating: This coating reduces reflections and boosts light transmission through the filter.
- Non-Cementing Optical Substrate Coating: It is applied to the optical substrate to enhance resistance against scratches.
- The filter utilizes Ion-Assisted Deposition Coating Technology for precise and stable performance. This technology guarantees that the filter's central wavelength (CWL) remains consistent even in the face of temperature fluctuations.
- During the coating process, a planetary rotation system is employed to ensure uniform and accurate coatings, resulting in high transmission in the pass-band and superior optical density in the off-band.
In summary, the Optolong UV/IR Cut Filter is a valuable accessory for photographers and videographers, aimed at enhancing image quality by selectively blocking UV and IR wavelengths. However, strict adherence to safety warnings is crucial, especially when it comes to avoiding solar observations to prevent potential eye damage.
Understanding the Performance Chart:
The accompanying chart provides insights into the filter's performance characteristics:
- The horizontal axis denotes the wavelength in nanometers (nm).
- The vertical axis represents the percentage (%) of transmission.
- The RED line on the chart visually depicts the transmission profile of the UV/IR Cut filter across different wavelengths. 
Share
View full details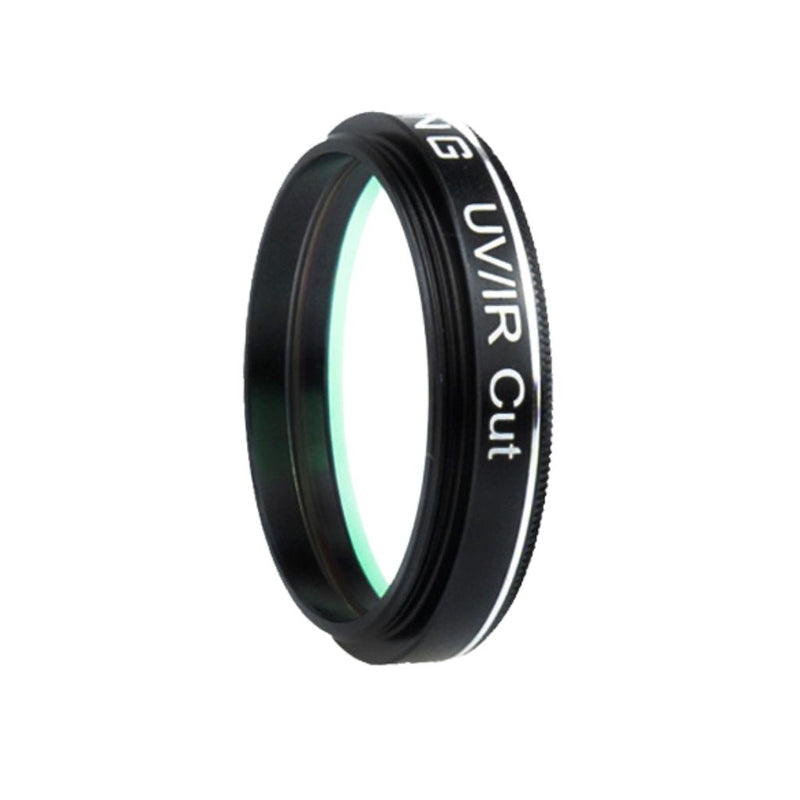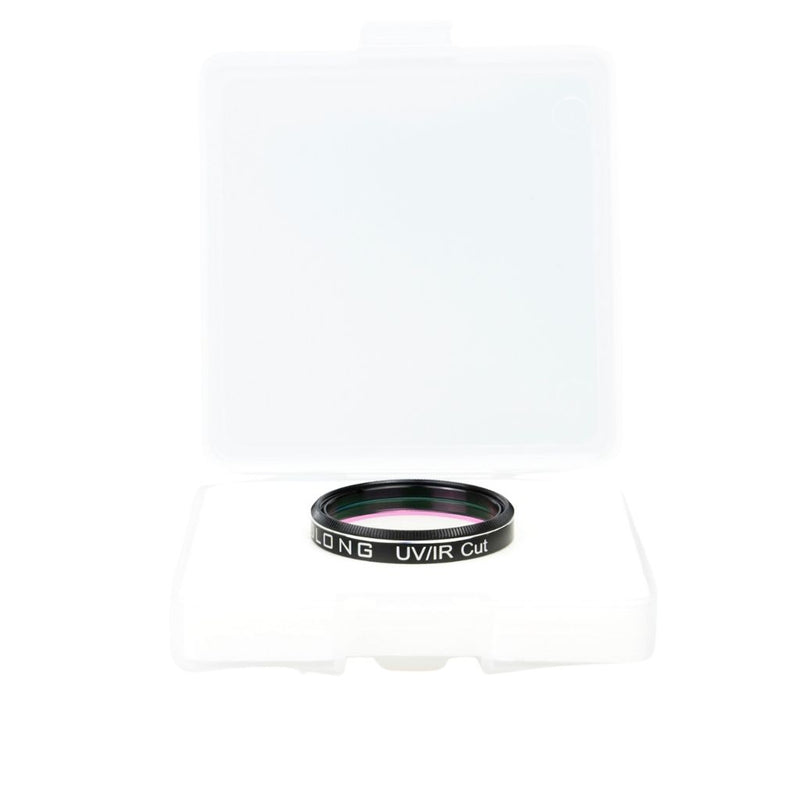 what we get asked most often
Are the prices all-inclusive?

Yes. The price you see is the price you'll pay. All taxes are included. Free shipping on all orders.
What's the stock status of the products on your site?

We list only in-stock items on our website that can be shipped right away. Sold out products are out of stock, so you can't place an order.

Selected products are available for Preorder, with a guaranteed delivery within 30 days or your money back.
How fast do you ship?

We process and ship all orders within two business days. Shipping time is determined by the speed of the shipping partner.
Is there a guarantee on your products? 

Yes. On top of the manufacturer's warranty, we also offer a Replacement Guarantee on all online orders. In the event that the product is defective or damaged during shipping, you will receive a replacement.
Can I cancel my order?

We'll refund you 100% if you cancel before dispatch. Cancellations after dispatch are complicated. Take a look at the our Policy here
What's your return policy?

We have strict return/refund policies as a company that deals with fragile products. Casual returns are not permitted. Items that are not damaged in transit or defective cannot be returned.So please take a moment to review our Refund Policy.
Could I order something that's out of stock or not listed?

If you are interested in ordering an out-of-stock item, click the "notify me" button. You will be notified when the item is back in stock.

To source a specific product for you, our team needs more information. Specific orders will be subject to case-by-case terms and conditions.