Orion
Regular price
Rs. 13,999.00
Regular price
Sale price
Rs. 13,999.00
Unit price
per
Sale
Sold out
A fantastic beginner telescope the whiole family will enjoy that's lightweight, easy to set up, and has a very affordable price tag!
76mm (3") aperture reflector telescope is large enough for wonderful views of the Moon, rings of Saturn, moons orbiting Jupiter, and even some brighter nebulas
Stable altazimuth mount and tripod provides smooth motion in both altitude (up/down) and azimuth (left/right) axes of motion
Included 25mm and 10mm Kellner eyepieces provide 28x and 70x magnification options right out of the box!
Includes two 1.25" telescope eyepieces, red-dot reflex sight, 1.25" rack and pinion focuser, MoonMap 260 and more
If you're looking for an affordable gift to kick-start the curiosity of a beginning stargazer, look no further! This telescope and accessory bundle is ideal for young backyard astronomers who are just starting to explore the wonders of the night sky.
The petite SpaceProbe II 76mm AZ Reflector Telescope is a great choice for anyone who is curious about space and the stars. The telescope's 3" aperture (or diameter) gathers a good amount of light from the night sky, for impressively bright and detailed views of celestial wonders. The rest whole family will want to join in the fun for great views of the Moon, bright planets, and star clusters seen through the SpaceProbe II 76mm. This telescope is a complete, full-fledged reflector that will help foster a lifetime of appreciation for science and astronomy.
This inexpensive reflector telescope will amaze you with revealing views of Saturn's picturesque rings, Jupiter's moons, and the beautifully cratered terrain of our own Moon's surface. Its 3" (76mm) primary mirror gathers enough light to snare the faint glows of some very exotic star clusters and distant nebulas too. The SpaceProbe II 76mm telescope's focal length of 700mm (f/9.2) provides sharp views of cosmic curiosities the whole family can enjoy.
Each Orion SpaceProbe II 76mm AZ Reflector includes two anti-reflection coated 1.25" Kellner telescope eyepieces, a 25mm and a 10mm, for two different magnification options right out of the box. The 25mm eyepiece will yield 28x power magnification in the SpaceProbe II 76mm while the 10mm eyepiece boosts the magnification up to 70x power for closer looks. These 1.25" barrel eyepieces are better and more versatile than smaller .965" eyepieces you might find with department store telescopes.

An included red-dot sight makes aiming the telescope nice and easy. Following a simple alignment procedure that parents can help with, you can use the red-dot sight to accurately aim the SpaceProbe II 76mm telescope at objects in the sky like the Moon and bright planets. Once aligned with the telescope, just turn on the red-dot sight and peer through the small circular viewing window so you see the red dot, and move the telescope until the red dot is on the object you want to see.
Use the included Orion MoonMap 260 to learn more about the lunar features you see in the telescope. With locations and names of over 260 features on the Moon such as craters, mountains, valleys, "seas" and more, the included Orion MoonMap 260 is a great tool for beginning astronomers. This detailed map will even show you where various spacecraft have landed on the Moon's surface! The MoonMap 260 can be used to plan what to look at on the Moon, and to learn the official names of all the interesting lunar landscape features you see in the SpaceProbe II 76mm Reflector Telescope.
The Orion SpaceProbe II 76mm Altazimuth Reflector Telescope comes with an altazimuth mount which allows simple up/down and left/right motion. The altazimuth mount is lightweight and easy to use for anyone in the family. (Like all reflector telescopes, the SpaceProbe II 76mm is not recommended for terrestrial viewing on land as the images will not be right-side up.)
Great for all-around astronomical observing, this highly portable, uncomplicated telescope is just the right size and weight for all family members and just the right price for parents. For the novice keen to discover what's "out there," the affordable Orion SpaceProbe II 76mm Altazimuth Reflector Telescope is a great first telescope.
Warranty
Limited Warranty against defects in materials or workmanship for one year from date of purchase. This warranty is for the benefit of the original retail purchaser only. For complete warranty details contact us.
Warning
Please note this product was not designed or intended by the manufacturer for use by a child 12 years of age or younger.
Specifications
Front-end outside tube diameter


4.90 in.




Glass material


Soda-lime plate




Kellner 10.0mm,25.0mm (1.25")




Magnification with included eyepieces

70x, 28x




Resolving power


1.52arc*sec




Lowest useful magnification


11x




Highest useful magnification


152x




Highest theoretical magnification

152x




Limiting stellar magnitude


12.1




Secondary mirror obstruction

19mm




Secondary mirror obstruction by diameter

25%




Secondary mirror obstruction by area

6%




Additional included accessories

MoonMap 260




0.10 grams




In the Box

Orion SpaceProbe II 76mm f/9.2 reflector telescope optical tube

Altazimuth mount

Aluminum tripod

Accessory tray

Red dot finder scope

25mm Kellner eyepiece, 1.25"

10mm Kellner eyepiece, 1.25"
Share
View full details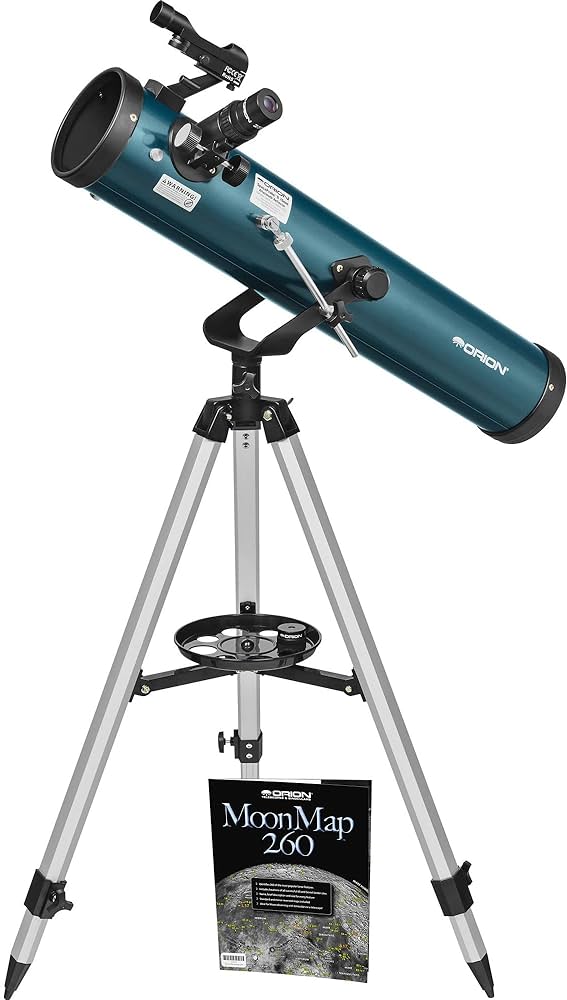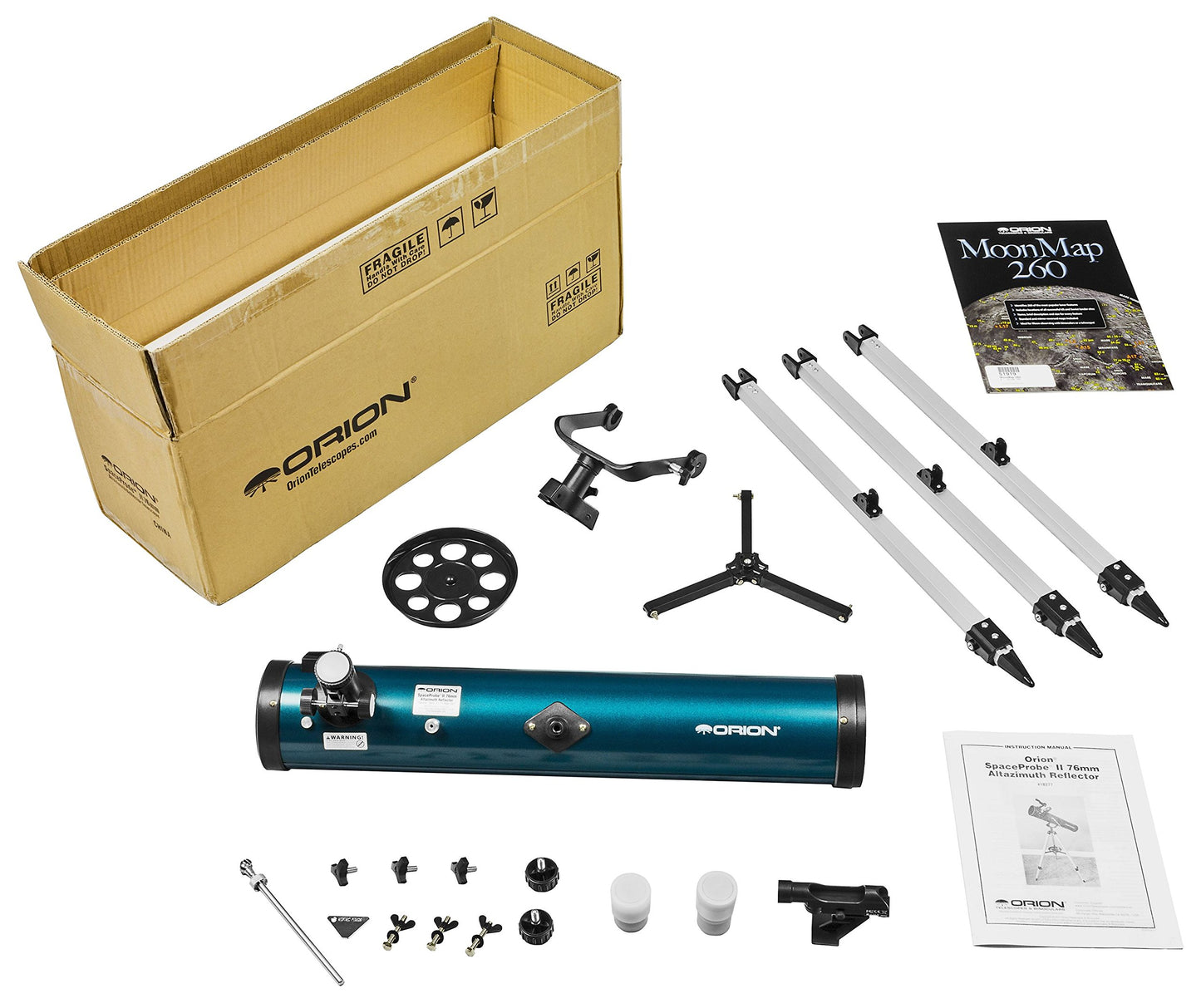 Good
Works great and has been a great starter telescope for my son. Love the laser sight, makes finding things a lot easier.
what we get asked most often
Are the prices all-inclusive?

Yes. The price you see is the price you'll pay. All taxes are included. Free shipping on all orders.
What's the stock status of the products on your site?

We list only in-stock items on our website that can be shipped right away. Sold out products are out of stock, so you can't place an order.

Selected products are available for Preorder, with a guaranteed delivery within 30 days or your money back.
How fast do you ship?

We process and ship all orders within two business days. Shipping time is determined by the speed of the shipping partner.
Is there a guarantee on your products? 

Yes. On top of the manufacturer's warranty, we also offer a Replacement Guarantee on all online orders. In the event that the product is defective or damaged during shipping, you will receive a replacement.
Can I cancel my order?

We'll refund you 100% if you cancel before dispatch. Cancellations after dispatch are complicated. Take a look at the our Policy here
What's your return policy?

We have strict return/refund policies as a company that deals with fragile products. Casual returns are not permitted. Items that are not damaged in transit or defective cannot be returned.So please take a moment to review our Refund Policy.
Could I order something that's out of stock or not listed?

If you are interested in ordering an out-of-stock item, click the "notify me" button. You will be notified when the item is back in stock.

To source a specific product for you, our team needs more information. Specific orders will be subject to case-by-case terms and conditions.